We could all agree that fall is the best hiking season. The temperature is moderate and comfortable to hike, while warm enough to cross or swim in the lakes or streams. However, hiking is different from walking in the park. You will need to face the changing weather, rough terrains, potential injury risks and foot pain from long walks. Hence, it is essential to grab a pair of hiking shoes that protects you well. Here are some criteria of what we should look for when getting a hiking shoe.
SLIP-RESISTANT
Unexpected weather and rough terrain could cause slips and falls along the way. One of the must-have features of hiking shoes is a sole that provides a solid grip. It is essential to have a sole that remains stable on surfaces with water, sand, mud or ice. FitVille Low-top Sturdy Core and Sturdy Core hiking boots both feature a slip-resistance high-quality rubber outsole that provides a high traction grip on slippery and rough terrains, keeping you safe and steady.
WATER REPELLENT
Make sure you are prepared for all types of weather conditions, the changing weather could be tough to handle. Unexpected rain or snow could soak your feet easily, causing blisters and unpleasant odor. FitVille Sturdy Core and Rugged Core are both made of water-resistant PU + Oxford cloth, which is excellent in sliding water off the shoe, keeping your feet nice and dry.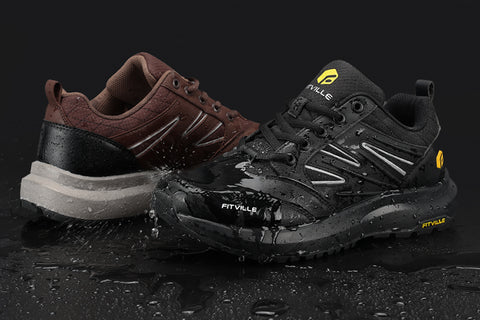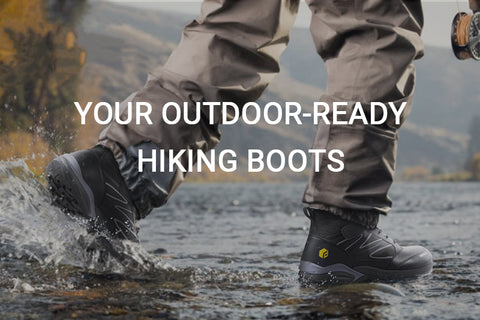 WIDE FIT
Feet tend to swell after a long hike, it would be wise to grab a pair that's wide enough to accommodate swollen feet. FitVille Low-Top Rugged Core and Sturdy Core offer up to 4E extra wide toe box that can easily fit swollen feet and avoid blisters by offering ample space for toes to spread comfortably.
CUSHIONING COMFORT AND STEADY SUPPORT
The further you walk, the more demanding it is to your feet and body. It could cause foot pain from impact force and stress. FitVille Rugged Core and Sturdy Core both feature a high-density sponge foam with a high rebound EVA midsole that provides cushioning comfort with stable support and shock absorption.  
Check out our new release Low-top Sturdy Core hiking shoe. A shoe that provides comfort, protection and support for your next adventure.  
Grab a pair while the hiking season lasts. Link below: